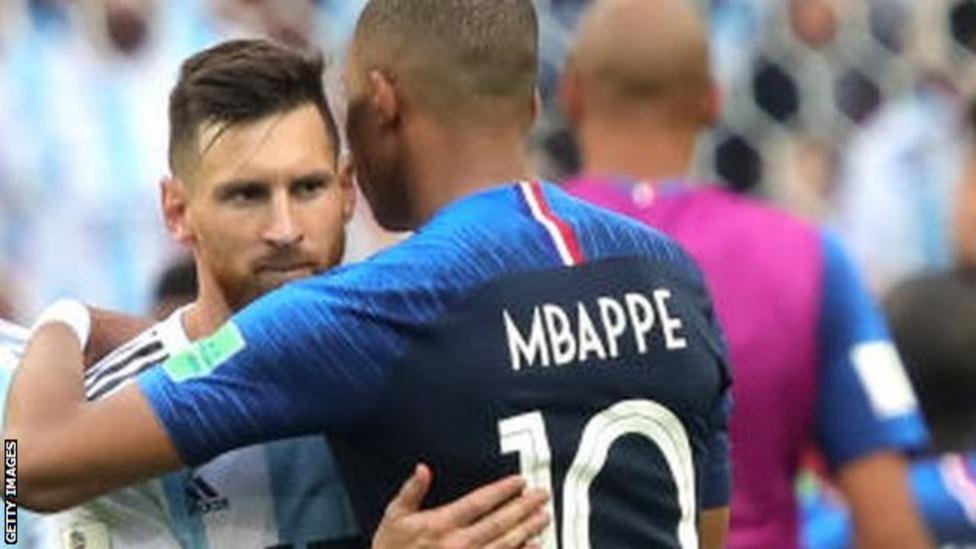 When Lionel Messi and Kylian Mbappe embraced at the end of a breathless World Cup classic, it was a striking moment that seemed to confirm the passing of greatness from one player to the next.
Everyone present at the electrified Kazan Arena on Saturday left the stadium knowing they had witnessed a special match, a knockout game for the ages.
And one player in particular set the spine tingling.
Mbappe is only 19 years old but he scored two goals and ran with blistering pace from his own half to win a penalty for the opener in France's 4-3 victory over Argentina, a win that moves Didier Deschamps' talented side into the quarter-finals.
It was a spell-binding performance that defined a match whose outcome signals France's real potential to go all the way in Russia and claim their second World Cup trophy.
Another day of suffering for Messi:
This was a match that inflicted more agony on Messi, the five-time Ballon d'Or winner who seems destined never to shine as only he can on the biggest stage of all.
Right after the final whistle, Messi did not look back as he and Mbappe came together and parted, but the young French striker did steal a brief final glance behind him.
He would have seen the hunched back of Argentina's iconic number 10, broken by the weight of a whole nation's expectation. Messi dreamed of matching those demands but was once again unable to conjure his masterful best when it counted most.
He provided two assists - one inadvertently as his shot was deflected in by Gabriel Mercado when Argentina took the lead, the other a sublime cross that found Sergio Aguero in the 93rd minute.
That was too little, too late, a reminder of what might have been at the end of another largely peripheral display at this World Cup.
Perhaps the moment that summed his afternoon up best was his sole shot on target, a strike in the 83rd minute that he failed to truly connect with and that Hugo Lloris gathered with ease.
Six days after he turned 31, as he walked off the pitch with his head bowed and his captain's armband held in his hands, Messi could well have been turning his back on the World Cup for good, and on international football altogether.
He did score a sublime opener in the narrow victory over Nigeria that dragged Argentina through to the knockout stage. Afterwards, Messi said he had "never known suffering like it".
His words came after having suffered plenty with Argentina before - including three consecutive defeats in major finals when Germany claimed the 2014 World Cup and Chile beat them to the Copa America in 2015 and 2016.
Messi said he was retiring after the 2016 defeat but changed his mind and helped drag his team-mates through qualifying for this World Cup, scoring a hat-trick in a decisive final match against Ecuador that rescued a poor campaign.
The legacy of his remarkable achievements in club football with Barcelona will not be tainted by this low.
But nonetheless there will forever be a regret and a sadness that a player as talented as Messi looks likely to have one thing missing: a World Cup he defined, which is exactly what Diego Maradona did in 1986.
It is remarkable to think that he may forever remain without a single goal in the World Cup knockout stage.
Source: BBC Sport